Scattered Shots
From ZH
Under the Biden-Harris administration, there has been a considerable rise in gun stores having their licenses revoked by the Bureau of Alcohol, Tobacco, Firearms and Explosives (ATF).
The Tracereported that 92 Federal Firearm Licenses (FFLs) had been pulled so far this year — this is the highest number since 2008.
And comes nearly a year and a half after President Bidendeclaredwar on 'rogue gun dealers.'
"The numbers provide the first indication that federal investigators have cracked down on lawbreaking gun dealers following guidance from the Biden administration ordering the agency to take a stricter tack during inspections," Trace said.
The revoked 92 FFLs account for 1.3% of all the gun shops inspected. The revocation rate under Biden has skyrocketed to the highest in 16 years.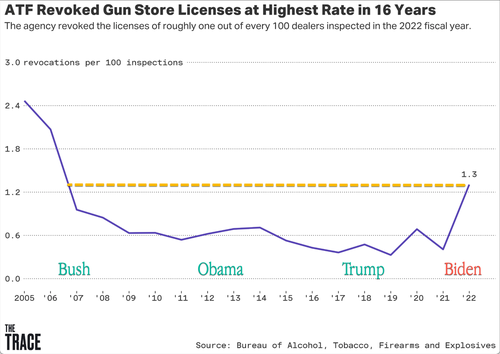 "The pandemic hobbled the ATF's ability to conduct compliance inspections at gun stores, and the total number of inspections has…
View original post 141 more words